High Protein Vegan Pesto Pasta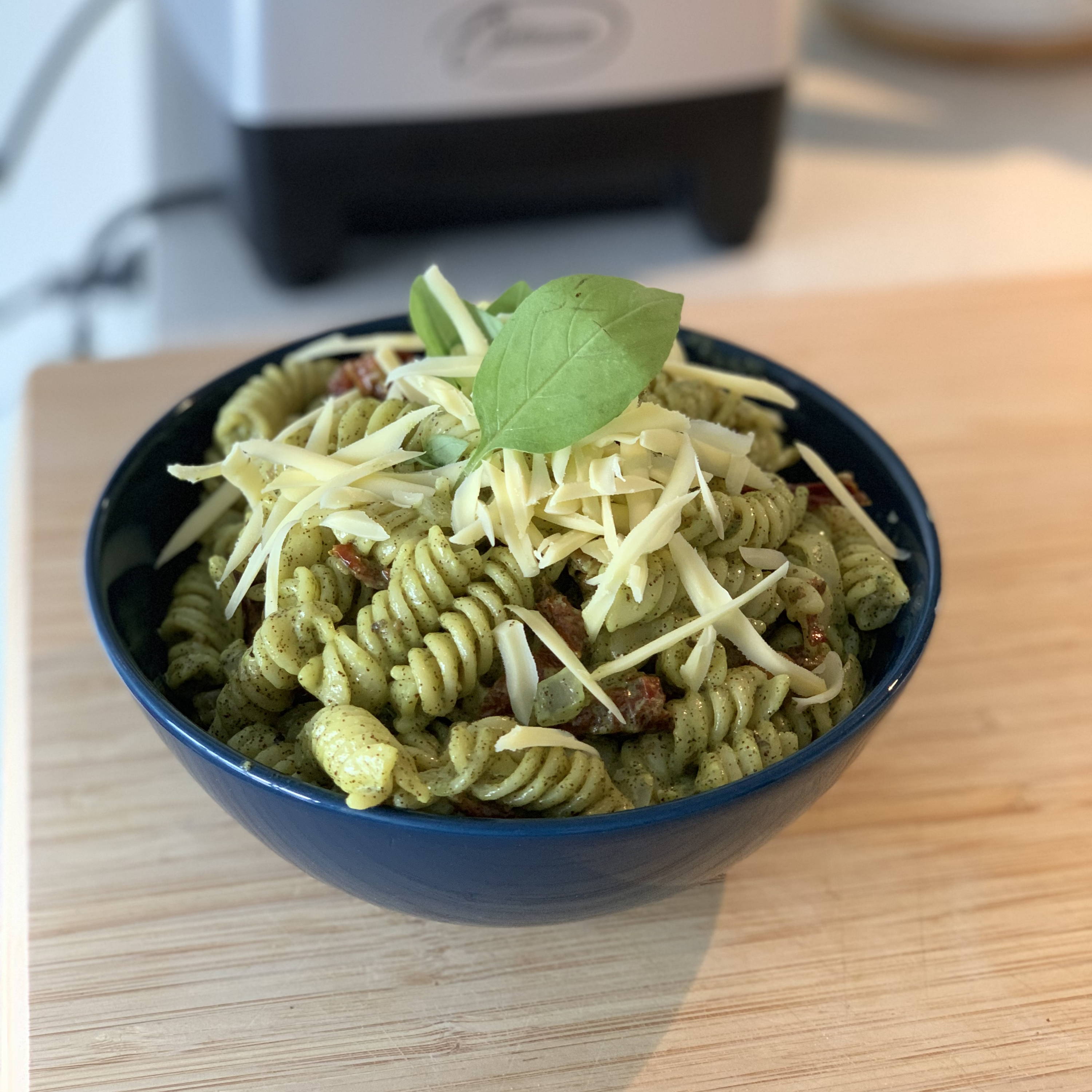 High Protein Vegan Pesto Pasta
Course: Main
Cuisine: Italian
Keyword: Vegan Pesto Pasta
Prep Time: 10 minutes
Cook time: 20 minutes
Author: Robbie Holt
Growing up, this was literally one of our favourite meal of all!
When we were kids, it was the only thing we ever wanted to eat! Can you blame us? Pesto pasta is one of the all time greatest meals, so we've veganised it in a number of different ways, and today it's the higher protein version that's our new recipe for you!
Also, in preparing this delicious meal, we used some of our favourite products, which you can find on our list of recommended products here:
- 1 tsp olive oil
- 1 onion
- 500g pasta
- 2 cups fresh basil
- 1/2 cup pine nuts
- 1/2 cup nutritional yeast
- 1/2 cup hemp flour
- 1/4 cup extra virgin olive oil
- 2 cloves garlic
- Juice of 1/2 a lemon
- Lemon pepper
- Sundried Tomatoes
- 1 tin of chickpeas
- Salt
1. Drain the chickpeas and add them to a tray.
2. Add as much lemon pepper as you wish, before adding them to an oven on 180C/350F (Fan oven) for 20 minutes, or until they're brown and golden.
3. In a new pan, add diced onions to it with olive oil and slowly caramelise.
4. Cook the pasta following the instructions on the packaging.
5. Add the fresh basil, nuts, yeast, garlic, salt, hemp flour, and lemon juice to a blender. Blitz this until it's developed a thick, creamy sauce.
6. Now add the extra virgin olive oil, and a little water if desired before blitzing once again.
7. Add the sauce in with the onions once they're nice and soft, mix around with the sundried tomatoes.
8. Now add in the pasta, mix it around, and enjoy.