Pad Kee Mao (Drunken Noodles)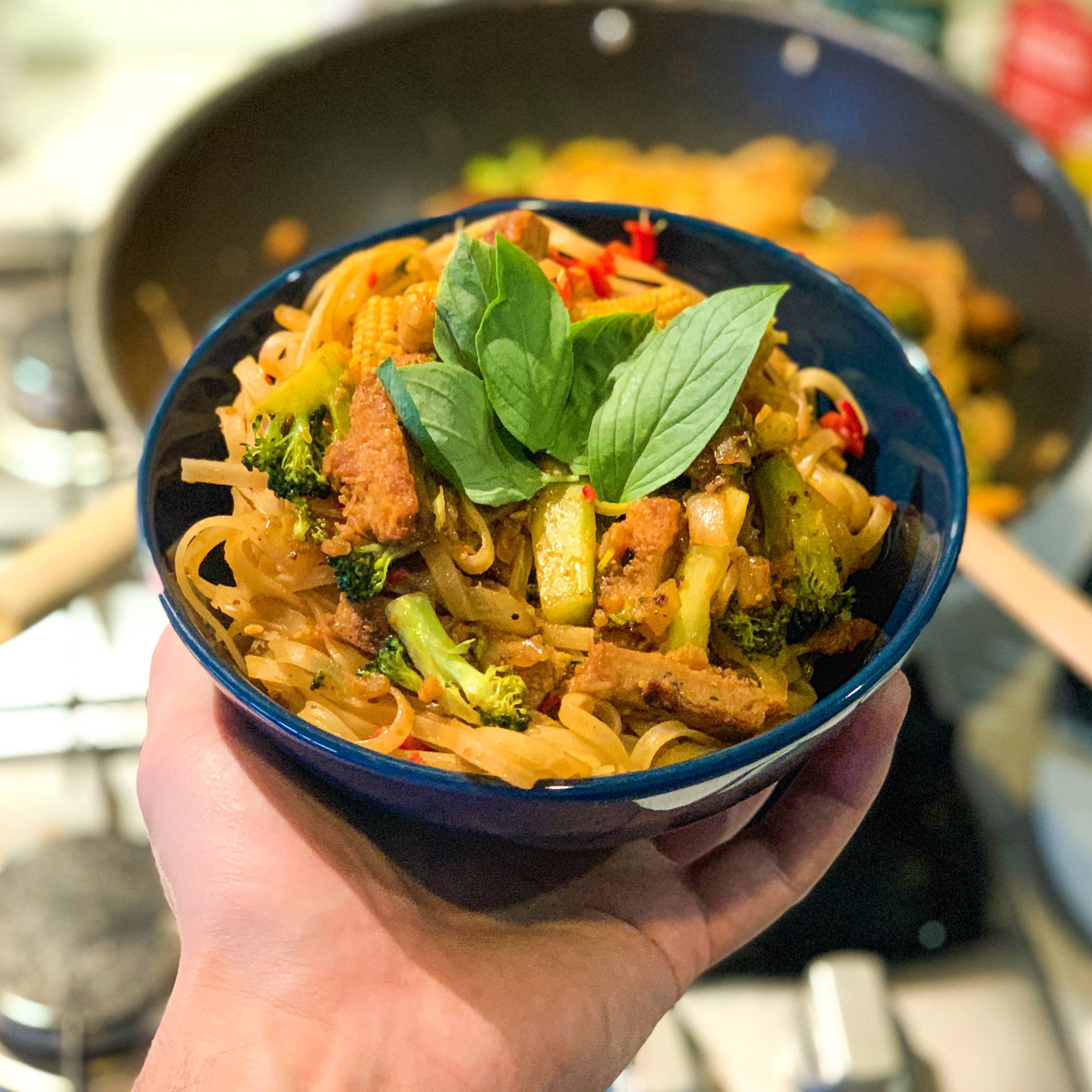 Vegan Pad Kee Mao (Drunken Noodles)
Course: Main
Cuisine: Thai
Keyword: Noodles (Pad Kee Mao)
Prep Time: 20 minutes
Cook time: 20 minutes
Author: Robbie Holt
Do you fancy going for something other than Pad Thai when ordering Thai?
Can you handle the heat?
If you can, then this might just be for you.
We tried it very recently, and even put together a video recipe for you, which we'll drop below.
Also, in preparing this delicious meal, we used some of our favourite products, which you can find on our list of recommended products here:
- 1 tsp olive oil
- 200g thinly sliced broccoli
- 1 pack of babycorn (8-10)
- 1 onion
- 3 garlic cloves
- 1 pack vegan chicken strips (we used fry's chicken schnitzel)
- 3 birds eye chillies
- 250g Rice noodles
- 1 cup loosely packed Thai basil
Sauce:
- 3 tbsp dark soy sauce
- 2 tbsp regular soy sauce
- 1 tbsp maple syrup
- 2 tbsp vegan oyster sauce
- 2 tsp hot sauce
1. In a wok, heat a tbsp of oil on high heat and fry the vegan chicken pieces until browned and crispy. Transfer to a bowl and then set aside.
2. Add a little more oil and place the onion, crushed garlic and grated ginger in to slowly heat for 5 minutes.
3. Wash and cut the ends of the broccoli and babycorn and throw in the wok too. Stir fry for a few minutes and then place in the bowl with the chicken pieces.
4. Cooking rice noodles can be difficult if you overcook, so we don't advise that you cook them at all. Boil the kettle and pour the water into a large bowl. Place the noodles in, making sure they're all covered in boiling water. Let the bowl sit for 10-15 minutes, and allow the noodles to seperate. Don't worry if they're not perfectly cooked as they'll heat up when you add them to the sauce.
5. In a small bowl, whisk the sauce ingredients together.
6. Drain the noodles and add to the wok with the sauce, stir and cook for around 2-3 minutes.
7. Add the remaining ingredients, thai basil, mix and serve! If the noodles are a bit sticky add a tbsp or two of water to help loosen.
8. Optional - top with some extra chilli and sliced spring onion.