Sweet Potato and Peanut Stew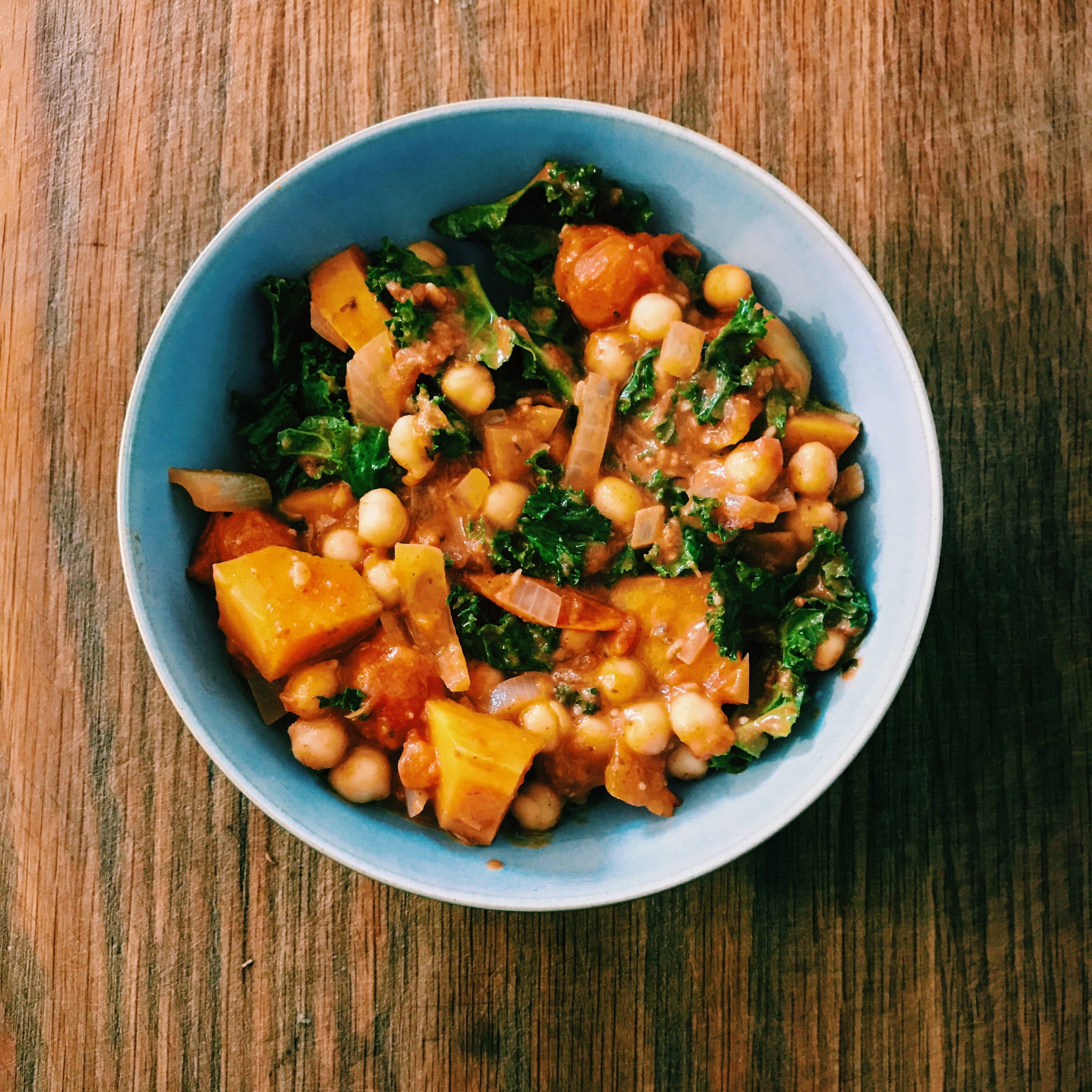 Course: Dinner
Cuisine: African Influenced
Keyword: Sweet Potato, Stew
Prep Time: 5-10 minutes
Cook time: 20 minutes
Author: Robbie Holt
You know when you're just going through a phase where you want to cram in as many whole foods into your diet as possible and you're looking for lots of recipes that'll combine this with a taste that really helps you to keep coming back for more?
Well..
This recipe is exactly that! The sweet potato, with the kale and peanut combines so well together that it makes for a perfect evening of food that'll get you feeling all satisfied and energetic? This is something you'll be keen to get a load of.
Also, in preparing this delicious meal, we used some of our favourite products, which you can find on our list of recommended products here:
- 1 tsp coconut oil
- 1 onion, chopped
- 2 cloves garlic, chopped
- 1 can chopped tomatoes
- 2 cups veggie broth

- 1 large sweet potato, washed, scrubbed, diced.

- 1/4 cup peanut butter

- 1 can of chickpeas

- 2 cups fresh kale

- Chili powder

- Oregano

- 8 cherry tomatoes
1. Start by adding the sweet potato chunks to the microwave for 5 minutes to soften.
2. In a large pan, heat the coconut oil until melted.
3. Then add the onions and garlic. Sweat for 8 minutes.
4. Then it's time for the chopped tomatoes, veggie broth, sweet potatoes, peanut butter, chili powder, and oregano.
5. On a low/medium heat, let this simmer for 15 minutes.
6. Then add the tomatoes, kale and chickpeas and heat for another 3 minutes.
7. Now add it to a bowl and
enjoy.