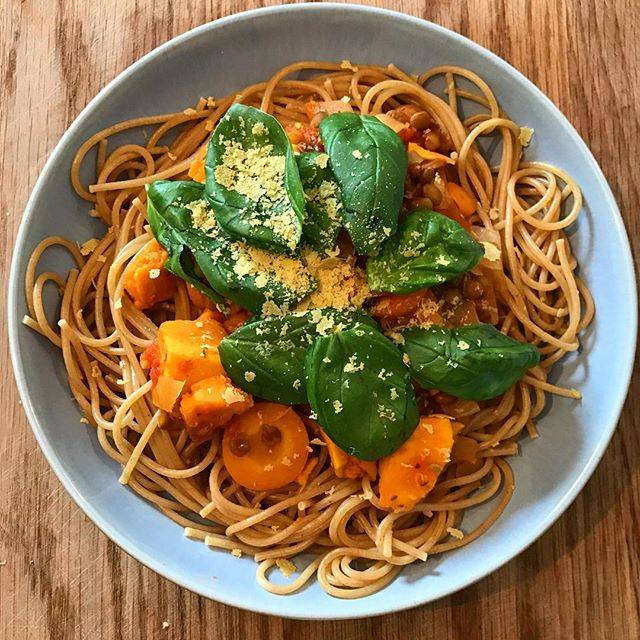 Course: Main
Cuisine: Italian
Keyword: Vegan Bolognese
Prep Time: 10 minutes
Cook time: 15 minutes
Author: Robbie Holt
When you socialise in vegan circles, you find there's two types of vegans when it comes to preferences for food. Those who are vegan for the animals, and eat whatever they want, so long as it's vegan.
Then, there are those who want heatlhier alternatives of all their favourite meals - this one is for you.
This lentil bolognese is simple, healthy, and completely plant-based. Try it out for yourself.
Also, in preparing this delicious meal, we used some of our favourite products, which you can find on our list of recommended products here:
- 300g whole grain spaghetti
- 1 tsp coconut oil
- 1 medium onion
- 2 cloves of garlic
- 1 cup organic vegetable broth
- 3/4 cup of chopped carrots
- 1 can chopped tomatoes
- 1 (400g) can organic lentils, rinsed and drained
- 1 large sweet potato, scrubbed, washed and chopped
into cubes
- 10 basil leaves
- Nutritional yeast on top Spices
- Oregano
1. Coconut oil in a large pan. Melt. Add the onions and garlic. Sweat for 5 minutes, then add spices.
2. Add the sweet potato to a tub and microwave it for 5 minutes. Then add the veggie broth to the onion mix. Followed by the sweet potato and carrots.
3. Allow this to simmer for 15 minutes.
4. In the meantime, cook the pasta following the instructions on the packet.
5. When potatoes are soft, add the lentils. Cook for another 2-3 min. Serve sauce on the pasta and dress with fresh basil and nutritional yeast. Yum.