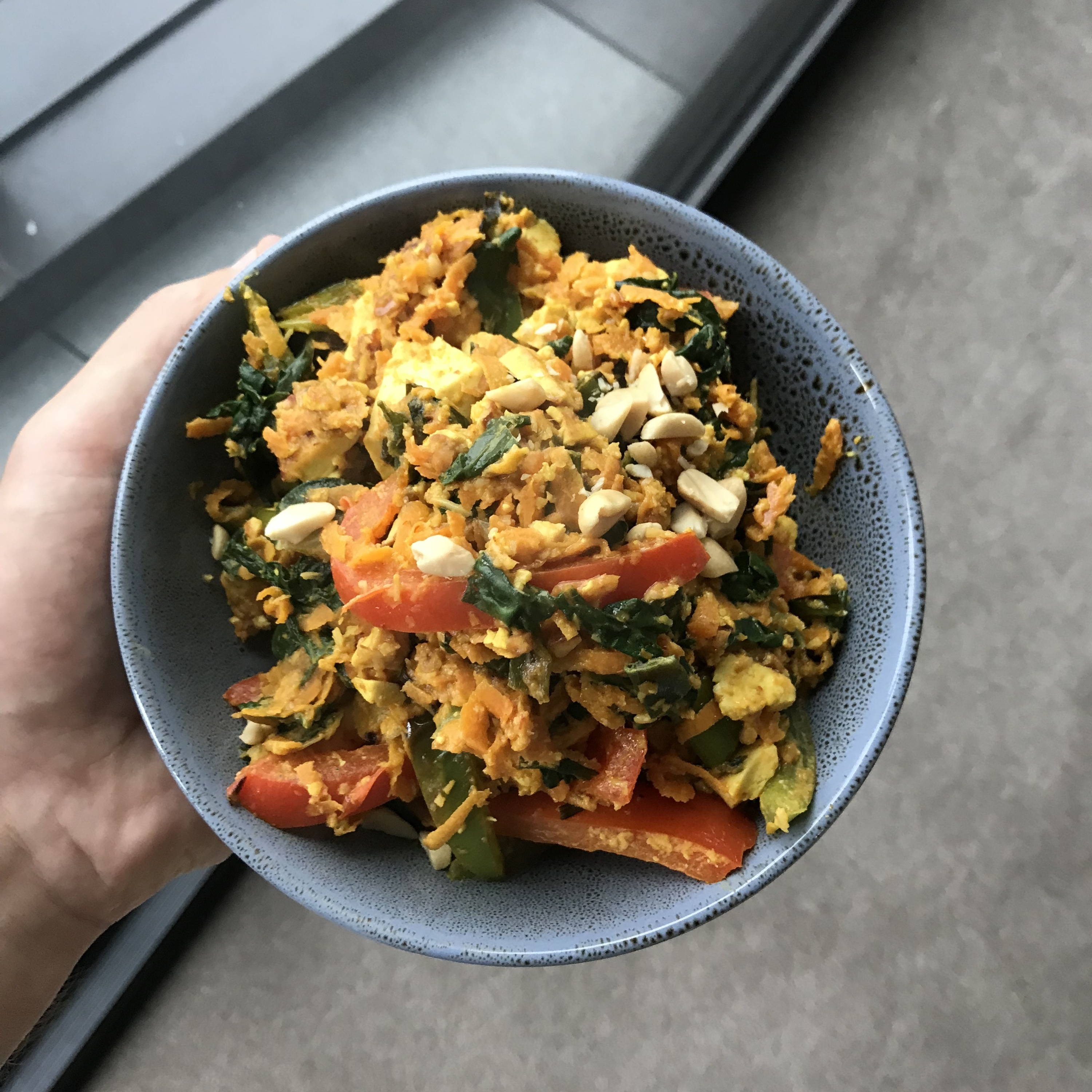 Course: Main
Cuisine: Thai
Keyword: Pad Thai
Prep Time: 15 minutes
Cook time: 20 minutes
Author: Robbie Holt
So simple and delicious, you have to give this one a try. Pad Thai is one of those meals that consistently hits the spot every time.
Regardless of whether you've even tried it before, I'd love you to give this a go as it's one of our very favourites on the vegan menu. High in protein, high in satisfication, and high in food diversity with a host of vitamins and minerals.
Also, in preparing this delicious meal, we used some of our favourite products, which you can find on our list of recommended products here:
- 300g firm tofu, pressed
- 1/4 cup desiccated coconut
- 2 tsp sesame oil
- 1 tsp chili paste
- 1/4 tsp ground turmeric
- 2 tbsp nut butter of your choice
- 2 Tbsp lime juice
- 1/3 cup desiccated coconut
- 1 1/2 tbsp maple syrup
- 1 Tsp sesame oil
- 1 green pepper
- 1 red pepper
- 1 handful of spring onions
- 1 medium red bell pepper
- 4 carrots, grated
- 6 leaves of Swiss chard, chopped
- Fresh Ginger
1. Chop the tofu into small pieces, then add the next 4 ingredients in a bowl with it and stir.
2. In another bowl mix in the next 4 ingredients
3. Now add the sesame oil to a pan, with the spring onions, and tofu mix.
4. 4 minutes later add the green pepper, red pepper, garlic, swiss chard, and shredded carrot.
5. Add the peanut sauce and heat on high until the vegetables are nicely cooked.
6. Once cooked, stir in fresh ginger and serve.